The Lothians Handicap Match Play is open to players from all the clubs and societies affiliated to the Lothians Golf Association.
Clubs have complete freedom to choose who represents them with the only requirement being that the player has a national handicap between 10 and 28 at the time of entry. In the past Clubs have chosen their B Champion, the person of the right handicap who has progressed the furthest in the summer singles, the winner of a particular handicap event, or just someone who has expressed an interest in playing, drawn from a hat if necessary.
A draw is made in February, with the first names out of the hat enjoying home advantage through until the semi-finals, which, along with the final, are played at a neutral venue.
More detailed information about the trophy and the winners, including the runners-up, venues and scores, was included in a hand-out that was enclosed with a centenary brochure handed out at the 2021 event. This can be seen if you click here.
2021
The 2021 finals will be played at Duddingston Golf Club on Tuesday 3rd and Thursday 5th August. The recent trend of reduced number of entries has been reversed in the last two years but is still well short of the 108 eligible.
At a time where we have been encouraged by our members to do more for the higher handicap players this is one event that meets that objective.
Given that there is complete freedom about who can enter it is surprising that not every club and society is taking part. Every effort will be made by us to encourage every club to enter.
2020
Due to the World Wide Coronavirus Pandemic (COVID-19), this tournament was unable to be played.
2019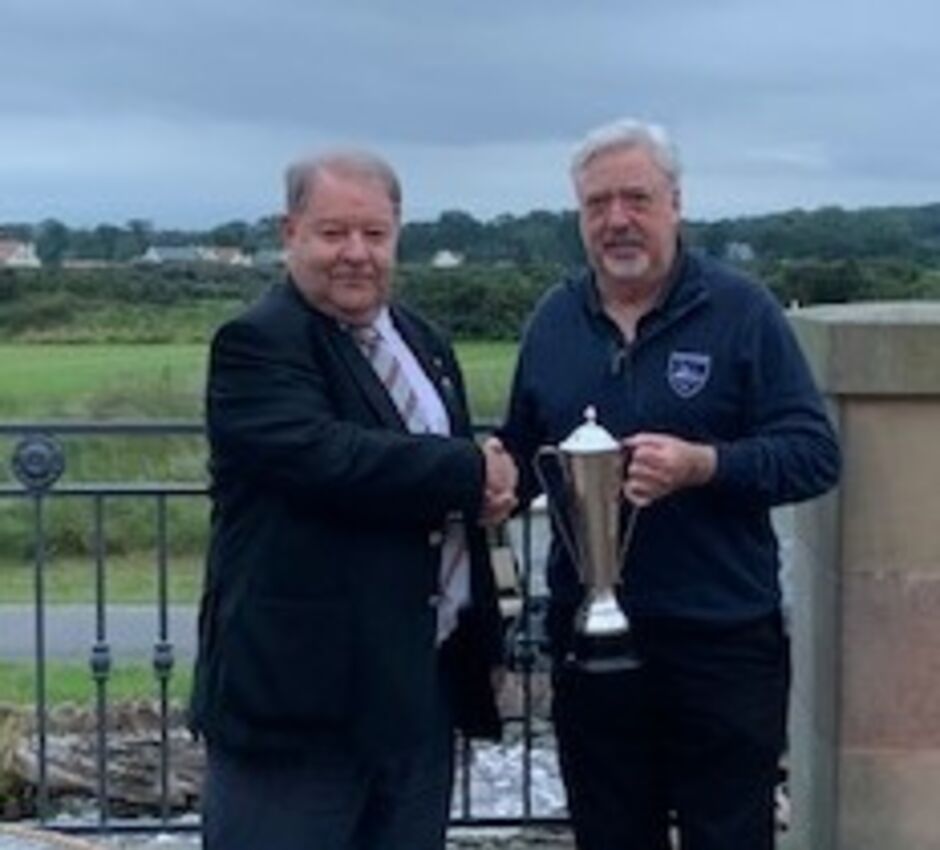 David Gilroy (Corstorphine 8.30) is the Handicap Match Play Champion following his 2 & 1 win over Colin McElhinney (Duddingston) at Archerfield. This is the first time a Corstorphine 8.30 player has won this event.
The first half was very close with David turning 1 up and when he won 10, 11, and 12 to be 4 up everything was looking good. However Colin had other ideas and won the 13th with a 3, the 14th with a net eagle 2, and also the 15th to be 1 down with 3 to play. Colin found trouble off the tee at 16 to go back to 2 down with 2 to play and a half in 4 at 17 was good enough for David to take the title.
The loosing semi–finalists were Stewart Leslie (Observers) and Steven Ede (Aegon)
69 players took part in the 2019 which was 3 more than the previous year but still well short of the maximum 108 eligible.
Lothian Handicap Matchplay - Champion
| Year | Champion | Club |
| --- | --- | --- |
| 2020 | Not Played | Not Played due to COVID-19 Restrictions |
| 2019 | D Gilroy | Corstorphine 8.30 |
| 2018 | A Thomson | Harburn |
| 2017 | A Laurie | Pumpherston |
| 2016 | P Ogilvie | Niddry Castle |
| 2015 | R O'Malley | Edinburgh City Chambers |
| 2014 | K Robertson | Prestonfield |
| 2013 | J Dorrian | Royal Burgess |
| 2012 | A Allan | Dunbar |
| 2011 | B Anderson | Torphin Hill |
| 2010 | D. Neilson | Craigielaw |
| 2009 | J Gladwin | Bass Rock |
| 2008 | M Sinclair | Standard Life |
| 2007 | B Crow | Bass Rock |
| 2006 | C Campbell | Dundas Parks |
| 2005 | I Robb | B.B.T. |
| 2004 | A Robertson | Electric |
| 2003 | S. Sheridan | R.I.C.S. |
| 2002 | P. Plunkett | Communities Scotland |
| 2001 | M. Sharma | Mortonhall |
| 2000 | G. Ross | Tantallon |
| 1999 | D. Macsween | Gifford |
| 1998 | B. Casey | Bruntsfield Allied |
| 1997 | G. Curle | Pumpherston |
| 1996 | P. Miller | Ratho Park |
| 1995 | R. Fleeting | C.E.W. |
| 1994 | G. Cummings | Pumpherston |
| 1993 | A.R. Whitelaw | L&B Fire Brigade |
| 1992 | W.W. Park | Scottish Equitable |
| 1991 | D.J. Cockburn | Mortonhall |
| 1990 | K. Devlin | Pumpherston |
| 1989 | R.W. Herschell | Torphin Hill |
| 1988 | R.D. Linton | Bruntsfield Short Hole |