The Event
The Sivewright Quaich was instigated by W A W Sivewright, one of a distinguished band of people who have been President of the Lothians Golf Association (1960-62) and of the Scottish Golf Union (1966-68). He also served as Secretary of the Lothians (1951-1958). The idea for the event was in response to an increase in the subscriptions, by the SGU, for what were called non-course owning clubs at the time. (Now known as Societies)
The format is a handicap version of the Dispatch Trophy where four-man teams play foursomes aggregate match play in a knock-out competition during the season.
The final has been traditionally played at Prestonfield Golf Club, which was Bill Sivewright's home club.
The initial tournament was a great success with 32 teams taking part and Ethicon beating Standard Golf Club 4 and 3 in the final.
2021
Encouraged by the extra teams over the last few years we are hoping the numbers will be sustained if not increased in 2021. Societies now also have the option of entering more than one team which is also helping to keep the numbers up.
One issue has been the cost of green fees but with teams only having to pay once in the season (when they lose, or not at all if they reach the final) this can be contained especially if the host society adheres to the suggestions made in Rule 9 which is to speak to the host club secretary beforehand and try and get a reasonable deal especially as this is a foursomes event.
Our recent governance review highlighted the fact that we should do more for players in the higher handicap ranges. This competition caters for people with handicaps between 6 and 18 so it certainly addresses that issue.
The final will be played at Prestonfield Golf Club on Sunday 12th September 2021
2020
Due to the World Wide Coronavirus Pandemic (COVID-19), this tournament was unable to be played.
2019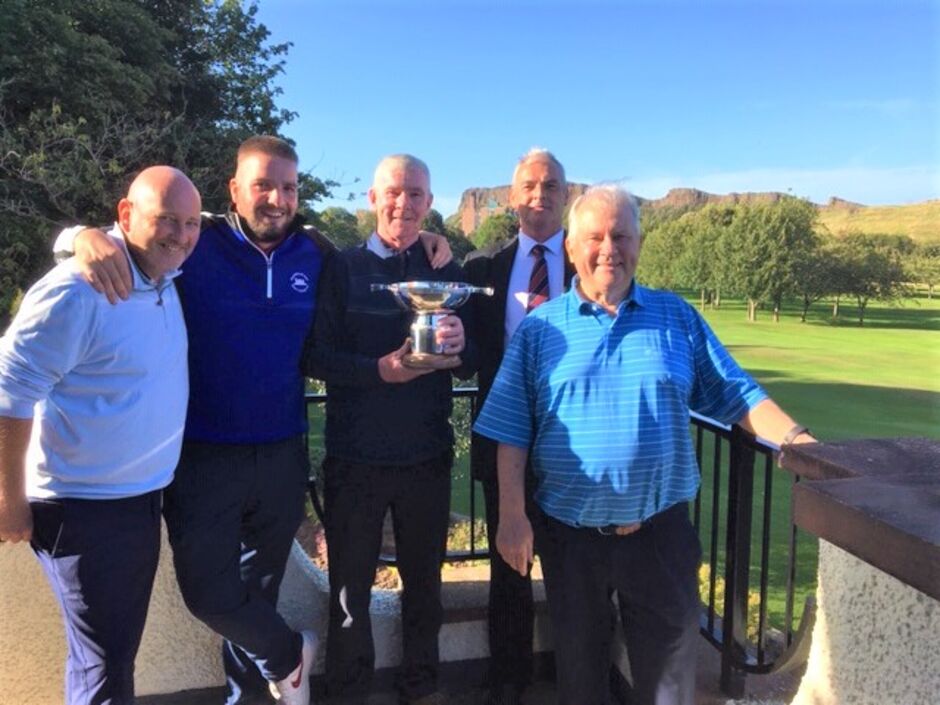 The Sivewright Quaich final was played at Prestonfield between Observers and SMARTS, the holders, on a lovely but occasionally breezy day in September.
The first game ended with the SMARTS first couple of Alan Dickson and Craig Clarke finishing 1 up after 18 holes. Although the Prestonfield affiliated club pairing were down early in their match they turned it around at the turn and were ahead by 2 playing 18 but a pitch to a foot at the last by Bob King for a winning birdie reduced the deficit to 1.
In the second game the Observers second couple of Rab Jackson and Stewart Leslie were always in control turning 4 up and although the SMARTS couple pulled 2 holes back by the 16th they lost the 17th to a par 4 and the overall match finished with a victory to Observers by 2 and 1.
Observers first won the trophy in 2006 and were previously in the final in 1986, finishing runners up, when one of their team was Stewart Leslie. The Winning Team are pictured here being presented with their trophy by the Captain of Prestonfield GC.
From R to L: Keith Peacock, Bob King, Rab Jackson, Prestonfield Captain, Ian Cowan, and Stewart Leslie.
We should also mention Henry He who played in two earlier rounds for Observers.
Sivewright Quaich
| Year | Club |
| --- | --- |
| 2020 | Not Played |
| 2019 | Observers |
| 2018 | SMARTS |
| 2017 | Royal Bank of Scotland |
| 2016 | Buckstone Golf Club |
| 2015 | Watsonian FP GC |
| 2014 | Register House |
| 2013 | Buckstone Golf Club |
| 2012 | George Heriots FP's |
| 2011 | Buckstone Golfing Society |
| 2010 | Ethicon |
| 2009 | Scottish Life |
| 2008 | Cramond |
| 2007 | Scottish Life |
| 2006 | Observers |
| 2005 | Stewarts & Melville FP |
| 2004 | B.B.T. |
| 2003 | Broomieknowe Home |
| 2002 | Temple |
| 2001 | Bruntsfield Short Hole |
| 2000 | Bruntsfield Short Hole |
| 1999 | George Heriots F.P. |
| 1998 | Scottish Equitable |
| 1997 | Ethicon |
| 1996 | Kingston |
| 1995 | Lochcraig |
| 1994 | Lochcraig |
| 1993 | East of Scotland Dental |
| 1992 | C.E.W. |
| 1991 | Cameron Iron Works |
| 1990 | East of Scotland Dental G.S. |
| 1989 | Evening News & Dispatch |
| 1988 | Granton G.S. |
| 1987 | Wallyford Welfare |
| 1986 | Binivell |
| 1985 | Stewarts & Melville F.P. |
| 1984 | Torphin "20" |
| 1983 | Forestry Commission (HQ) |
| 1982 | Lothian & Borders Police |
| 1981 | Buckstone Golfing Society |
| 1980 | Thorntree |
| 1979 | Ormiston Miners Welfare |
| 1978 | Royal Bank of Scotland |
| 1977 | Torphin "20" |
| 1976 | Edinburgh Insurance |
| 1975 | British Leyland |
| 1974 | Standard Life |
| 1973 | Edinburgh & District Motor Trade |
| 1972 | Hailes |
| 1971 | Ethicon |
| 1970 | Standard Life |
| 1969 | Ethicon |