Sponsored by



The Event
The South East District Championship was first played in 1968, when Uniroyal presented a trophy for a 72-hole event open to players from Lothians and the Borders. This Competition has a field of the 81 top amateurs played two rounds on the Saturday with the top 40 and ties going forward to a final two rounds on the Sunday.
The format has basically remained the same since then, although this is now an open event that counts towards the SGU Order of Merit, therefore attracting players from all round the country.
The 2001 event, for example, was won by Scottish internationalist Jack Doherty, who travelled up from the Vale of Glamorgan club in Wales.
In 2006 the tournament was nominated as a World Amateur Golf Ranking event and continues as such.
The first championship was fittingly won by RDBM Shade (Duddingston) shortly before he turned professional after a long and distinguished amateur career.
2021 sees a new Sponsor come on board for this tournament and we are delighted to introduce AKRO Multihire. Their main business comprises of the supply and hiring of small plant, tools and consumables to the construction industry together with greenkeeping teams around the Lothians and further afield. We are delighted to note that their growing reputation has seen quite a few of our Lothian golf clubs using their services.
2021
In 2021 the event was played at Turnhouse Golf Club on Saturday 28th and Sunday 29th August in a gloriously sunny weekend. The weather contributed to some amazing scoring and the competition produced two record equalling course records through Allyn Dick (Kingsfield) and Alister Hain (Ladybank)
However, it was the recent stunning vein of form that Allyn Dick is producing that saw him add the South East District Championship to his Lothians Championship. Allyn had a slow start of 70 in round one but followed this up with three brilliant rounds of 67, 63 and 64 for a total of 264 three shots ahead of his opponents. Overnight joint leader Scott Crichton (Leven Thistle) did his best to keep Allyn in his sights and was only one off the lead going into the last 18 holes, however, his 66 proved not to be enough and he finished three shots behind in second place. James Wilson of Balmore pipped Andrew Davidson (Crail GS) in count back to finish third on 270.
It was Alister Hain who finished sixth, who had the consulation of equalling the course record with Allyn Dick in his last round of the day. What a fantastic championship it proved to be and we thank our Sponsors AKRO Multihire for being on board with their support of the tournament.
Allyn is pictured here receiving the trophy from President Jean Macnab, with Vice President, Neil Anderson and Turnhouse Captain Oliver McCrone looking on.
2020
Due to the COVID-19 restrictions this competition was not played in 2020.
2019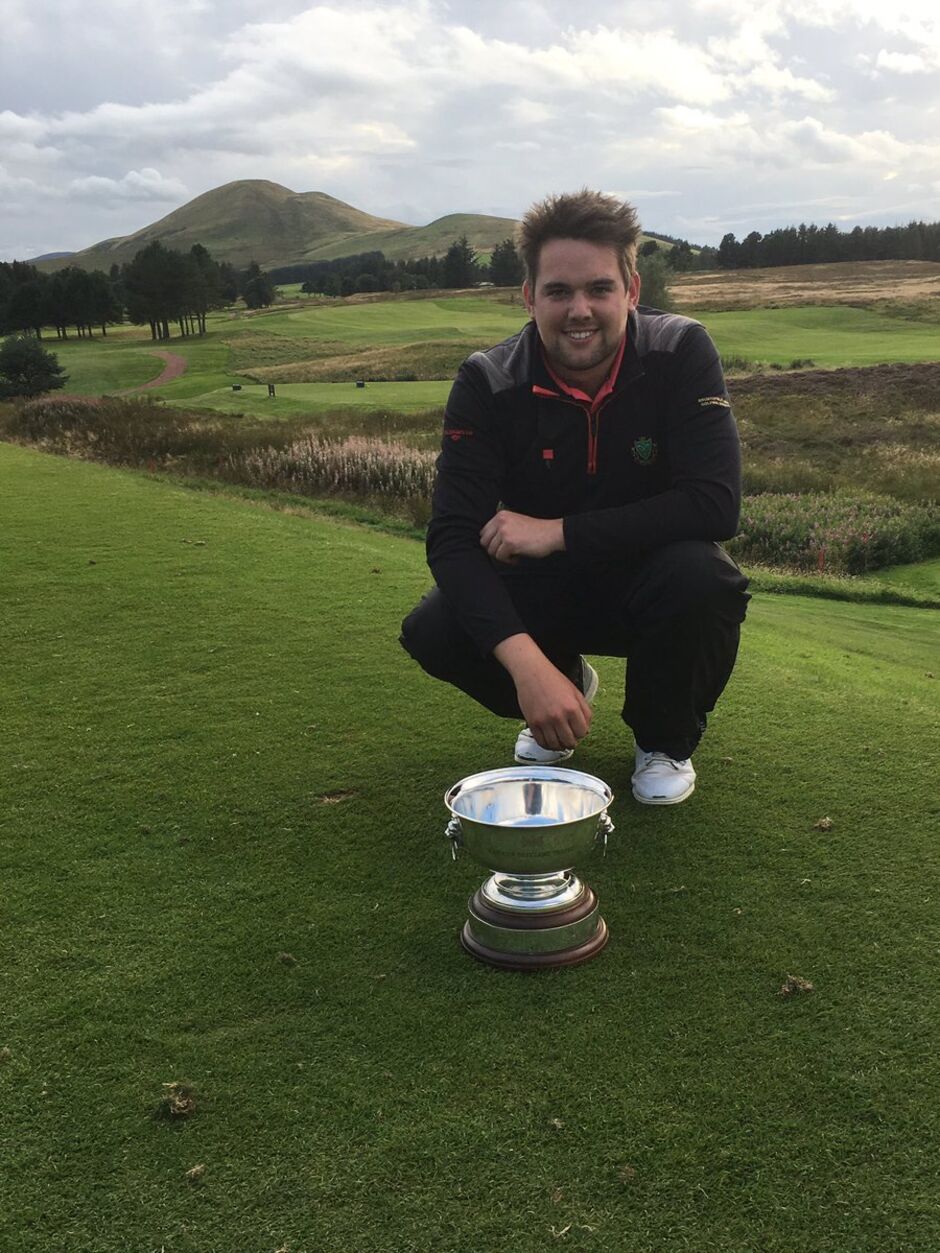 The 2019 event was held at West Linton where the championship has been played on 3 occasions.
The 2019 champion, who made up a 5 shot deficit going into the last round, was Stuart McLaren (Bruntsfield Links GS) who tied at 1 over par but squeezed out Connor Wilson (Castle Park) in a play-off.
Dominic Dougan (Airdrie) was third, three shots further behind. In horrendous conditions, on the Saturday especially, all those that finished qualified for the second day. McLaren and Wilson were the only two players to break par that day. Euan McIntosh (Turnhouse) had the best score of the weekend, a 5 under par 64, to shoot up the field to 5th position on the Sunday afternoon.
| Past Winners | |
| --- | --- |
| 2020 | Not played due COVID-19 Restrictions |
| 2019 | S McLaren (Bruntsfield Links GS) |
| 2018 | R Smith (Dalmahoy) |
| 2017 | B McLeod (Musselburgh) |
| 2016 | E McIntosh (Turnhouse) |
| 2015 | M Clark (Kilmalcolm) |
| 2014 | D Kay (Dunbar) |
| 2013 | J McDonald (Kilmarnock Barassie) |
| 2012 | A Dunton (McDonald) |
| 2011 | G Robertson (Glenbervie) |
| 2010 | S Stewart-Cation (Balbirnie Park) |
| 2009 | D Somerville (St Andrews) |
| 2008 | S Borrowman (Dunbar) |
| 2007 | C Macauley (Tulliallan) |
| 2006 | G Campbell (Blairgowrie) |
| 2005 | S Smith (Duddingston) |
| 2004 | E Ramsay (Carnoustie) |
| 2003 | S Wilson (Forfar) |
| 2002 | S Armstrong (Ratho Park) |
| 2001 | J Doherty (Vale of Glamorgan) |
| 2000 | J King (Cardross) |
| 1999 | S Carmichael (Cardross) |
| 1998 | G Fox (West Kilbride) |
| 1997 | S Mackenzie (West Linton) |
| 1996 | G Rankin (Palacerigg) |
| 1995 | S Mackenzie (West Linton) |
| 1994 | G Sherry (Barassie) |
| 1993 | M Brooks (Carluke) |
| 1992 | J McGarragle (La Moye) |
| 1991 | Not played due to bad weather |
| 1990 | S Knowles (Kingsknowe) |
| 1989 | C Cassels (Murcar) |
| 1988 | S Easingwood (Dunbar) |
| 1987 | S Easingwood (Dunbar) |
| 1986 | J Yuille (Royal Burgess GS) |
| 1985 | M Timmins (Edinburgh Thistle) |
| 1984 | G Macgregor (Glencorse) |
| 1983 | J Noon (Musselburgh) |
| 1982 | P Gallacher (Peebles) |
| 1981 | G Macgregor (Glencorse) |
| 1980 | G Macgregor (Glencorse) |
| 1979 | G Macgregor (Glencorse) |
| 1978 | J Wells (Peebles) |
| 1977 | W Morton (Glencorse) |
| 1976 | P Bucher (Bruntsfield Links GS) |
| 1975 | G Macgregor (Glencorse) |
| 1974 | P Smith (Dalmahoy) |
| 1973 | T Robertson Jnr (Dalmahoy) |
| 1972 | G Macgregor (Glencorse) |
| 1971 | J Macdonald (Dalmahoy) |
| 1970 | W Middleton (Prestonfield) |
| 1969 | J Macdonald (Dalmahoy) |
| 1968 | RDBM Shade (Duddingston) |