Kilspindie's Juniors have County Cup success.
Following the heartache of losing in extra holes over their own course last year, Kilspindie have managed to turnaround this disappointment into an extra special win over the famous Open Championship course at Muirfield. The Kilspindie team were inspired with excellent play from all the team and with the match in the balance it was down to Freya Constable to sink the winning putt on the 3rd extra hole! Defeating their local rivals Dunbar, in the final, brings Kilspindie's winning record up to three wins in the last four years.
The winning team is pictured here in front of the Muirfield Clubhouse.
Congratulations from the Lothians on this epic win and good luck to the players going forward from here.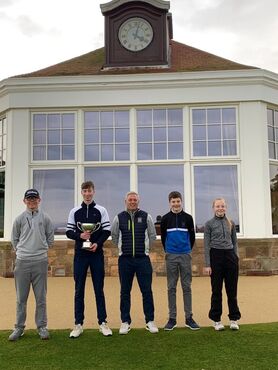 Pictured are L-R, James Wood, Connor Currie, Chris Stirling (Club Captain), Scott McAdam and Freya Constable