Lothians Boys Championships
FINALS
Thursday, 15 August 2019 seen well contested matches over the blustery Braids No 1 Course for the final matches of the boys Championships.
Congratulations to the new Champion in Ciaran Paterson who won 4&3 over Euan Canavan (Longniddry). The Ratho Park player was always in control of the match and was able to maintain his focus throughout to take the title.
In the Under 16 contest, In form Valdemar Hundleboll ran out the winner by 2 holes over his opponent Archie Finnie (Royal Burgess) This win is hard on the heels of his success in the Boys OOM.
Andrew Hendry took the Under 14 title winning 3&2 over Harry Bent (Longniddry). The Gullane lad stuck to his task throughout the match and managed to get his head over the line.
Callum Kenneally of Kilspindie was leading qualifier with a 69 gross was also on hand on the night to receive his award.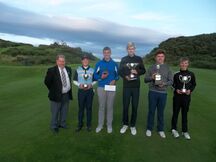 L to R; John Allan (President LGA), Andrew Hendry (U14 Champion), Euan Canavan (Silver Medalist), Valdemar Hundeboll (U16 Champion), Ciaran Paterson (Champion) and Callum Kenneally ( Leading Qualifier)
SEMI FINALS
The final matches have now been decided in the Boys Championships and congratulation go to Ciaran Paterson (Ratho Park) and Euan Canavan (Longniddry) who have reached the Final in the overall Championship. Paterson beating leading qualifier Callum Kenneally by 2&1 and Canavan beating Lyle Murdoch (Kings Acre) on the 18th by 2 holes.
The U16 final, we see the Lothians Boys Order of Merit Winner, Valdemar Hundeboll (North Berwick) making his way into the final by beating Robbie Main (Royal Burgess) 6&5 and his opponent will be Archie Finnie (Royal Burgess) who narrowly defeated Ryan Gallacher (Longniddry) 2&1.
In the U14 Final, congratulations go to Harry Bent (Longniddry) and Andrew Hendry (Gullane) who eased past their opponents Sean Gallacher (Prestonfield) and James Wood (Bathgate) respectively.
The final matches take place at The Braids No1 Course on Thursday evening with the first tee off at 4.50pm
To view the updated draw please click here
QUALIFYING
The matchplay stages of the Lothians Boys Championships are down to the semi-final stages.
The draw is now available including all starting times for both the Semi-Final and Final matches, this can be viewed by clicking here
Following an excellent qualifying competition despite the poor weather conditions we managed to get 40 players out on the course. Leading player was Callum Kenneally of Kilspindie who returned not only the best Gross score of 69 but also the best Nett score of 63.
The full scoresheet for the qualifying can be viewed here