Lothians defence of Scottish Area Championship starts well
The Lothians started their defence of the Scottish Men's Area Team Championship on the 1st May against Scottish Golf North at Bathgate GC, Lothians team were represented by Scott McCandless (Bathgate) Graham Bell (Bathgate), Allyn Dick (Kingsfield), Benn McLeod (Musselburgh) Craig Davidson (Craigielaw) and Thomas Simmonds (Gullane)
They were faced by a relatively strong side from the North who were represented by John Forbes (Muir of Ord), Lewis Reid (Fortrose and Rosemarchie), David Joel (Inverness), Logan Gilles (Nairn), Finlay Wickenden (Nairn) and Fraser Fotheringham (Nairn), Team Captain Graham Davey (Royal Dornoch) looked forward to a good match on the challenging Bathgate Course.
The Lothians team are pictured here (L to R) Thomas Simmonds, Allyn Dick, Scott McCandless, Craig Davidson, Benn McLeod and Graham Bell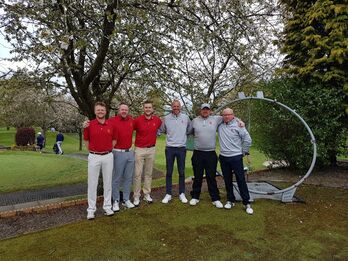 Match details.
It turned out to be a close run thing, despite the result of the match, as was expected. In the morning foursomes all three matches went down the 18th and it was spoils shared as both team won one, lost one and halved one. The weather conditions held up for the afternoon round despite it getting a bit cooler. These matches followed suit to the morning matches with all of them being pretty close all the way round. Two matches went up the 18th and two finished on the 17th so the 6-3 score line in Lothians favour proved to be closer that it suggests.
All the players played their part in securing a win which holds us in good stead ahead of our next Match in June versus Fife at Dunfermline (Pitfirrane) Golf Club. Fife were pipped by Borders in the other match in the group with Borders coming out on top 5.5 to 3.5
So its all to play for. As we head to Fife, Borders will head North with our last match being Borders at Torwoodlee in July. Only one team from each section head to the Finals weekend in September which is being played at Powfoot GC.
Sunday's scoresheet is pictured below.