Lothians win Scottish Area Team Championship 2021
Final
We faced a strong Borders team in the final following their 3 - 2 win over North in the Semi Final.
Lothians sent out the same team format in the afternoon final with Kenny and Allyn leading the way against ex Lothians player Jamie Morris and Allan Turnbull. The first match proved to be the start of a good battle and it was Lothians who came out on top after Allyn canned a 40 foot putt on the 18th for victory. In the top singles match Connor was edged out by his international team mate Darren Howie 3&1, but it was Andrew Benson and Scott McCandless who once again excelled in providing high scoring wins of 5&3 and 5&4 to make the match secure before Angus Carrick playing out a halved match in the last game proving a match score of 3.5 - 1.5. Lothians played very well throughout the tournament and were worthy winners and certainly no one could argue that the best team won.
This is Lothians first win under the new format and our first win since 2007. It will be a historic victory as this coincides with the Association's Centenary year.
Two of the team now head off to represent Scotland in the Home internationals , Angus Carrick and Connor Wilson will be joined by another Lothians player Andrew NI, who could not be considered for selection in the Lothians team due to being abroad, and we look forward to supporting them with hopefully a Scottish victory.
The victorious team are seen pictured here with the magnificent Scottish Area Team trophy: Back Row: Kenny Glen, Scott McCandless, Connor Wilson & Andrew Benson. Front Row: Allyn Dick, Neil Anderson (Team Manager) and Angus Carrick. Not pictured but also played his part was Men's Selection Committee member Ross Mallon.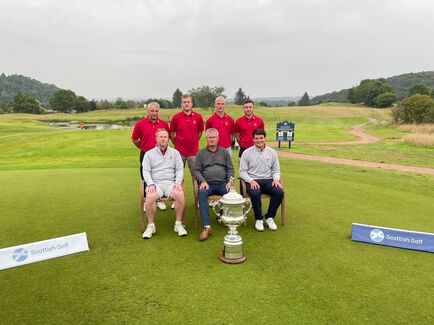 Semi Finals
Team Manager Neil Anderson, probably surprised many with his choice of pairing Allyn Dick and Kenny Glen in the Foursomes to lead the team away against Perth & Kinross, Although a top pairing, they did come up against a good young pair from P&K and soon found themselves a few holes down but kept themselves in it till late in the match before losing at the 15th.
Connor Wilson was sent out next and again found it hard to get his nose in front. With his match tight, the match concluded at the 17th with another loss 3&1. Good comfortable wins for Scott McCandless and Andrew Benson levelled the match and it was down to our last man Angus Carrick, who had controlled the match all the way round before losing 16 and 17 to go all square. With the last halved it was down to extra holes and with a good birdie on the 20th, Lothians got through.
Day Two
It was an indifferent start to the day for the Lothians players with some difficult pin positions causing a few shots to go astray. However, the players rallied led by Angus, who recorded an excellent -6 (64) and with close putts on 17th and 18th for birdie only just missing out on a course record. This negated to over par round of Andrew Benson and with Scott McCandless Allyn Dick and Connor Wilson all recording recording -3 rounds Lothians were top of the list with a collective score of -21 for the event and going into to tomorrows Matchplay as No 1 Seeds.
Day One
Apologies for the delay in the results table only just received from SGL.
As you can see Lothians in good position to qualify for the four available places in the SATC.
Good rounds from Connor Wilson (-5) and Angus Carrick (-3) setting the team up in good stead for tomorrow. With Par and below rounds from three other players adding to the -10 team score.
Second Qualifying for the Lothians starts again with Andrew Benson leading the way for the Lothians at 10.30am, followed by Angus Carrick, Kenny Glen, Scott McCandless, Connor Wilson and Lothians Champion Allyn Dick bringing up the field.
I hope you agree good luck to the guys tomorrow.
Head to our instagram page on the website home page for all of todays scoring.