Allyn Dick proves too hot to handle in SED
SECOND DAY
A scorching couple of rounds from Allyn Dick one which equalled the Course record was far too much for the field as the SED came to a conclusion at Turnhouse. Dick's 63, 64 finish was just majestic golf, from someone going through an amazing purple patch as he adds the AKRO Multihire sponsored South East District Championship to the Lothians Championship that he won in July.
His four round total of 264 was recorded with rounds of 70, 67, 63 and 64. Scott Crichton of Leven Thistle made every effort to push Allyn Dick as he recorded a 68 in round three to back up his day one lead of 133, leaving him one adrift going into the final round. However, it was Dick who proved to be the form player and in the end Crichton could only manage a final round 66 for his 267 total, three off the lead. James Wilson of Balmore and Andrew Davidson of Crail finished the day on 270 with Wilson just pipping him into third on countback.
Mention should also be made of Andrew Hain of Ladybank who himself recorded an equal course record score of 63 in the final round but it was a little too late as he finished sixth with 272.
The tournament was great competition which seen a stream of players from outside the Lothians taking part which added greatly to the day. We thank our Sponsors AKRO Multihire for their contribution to a great weekend.
Allyn Dick is seen here receiving the trophy from Jean Macnab (President) with Oliver McCrone (Turnhouse Captain) farleft, and Neil Anderson (Vice President) looking on.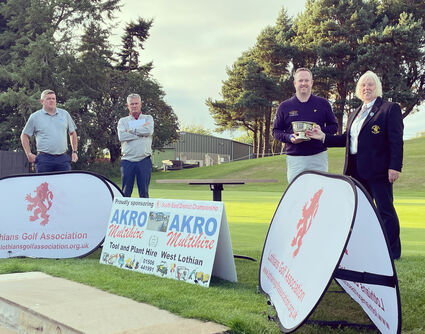 First Day
Scott Crichton (Leven Thistle) and Chris Lewis (Dukes, St Andrews) lead overnight in the SED with scores of 133 but Allyn Dick (Kingsfield) with a course record equalling 63 and Andrew Davidson (Crail) with a 65 drew ahead this morning.. All set for an exciting finish this afternoon with 8 players within 3 shots of the lead. 200 A Dick & A Davidson, 201 S Crighton, 203 C Lewis, M Rickard (St Andrew's), Ferghus Milne (Banchory), R Moffat & S Armstrong (Turnhouse).