Buckstone 'A' and Aegon playout close Final match in Sivewright Quaich
FINAL
The two finalists set out on a well presented Prestonfield course with good overhead conditions which led to some excellent play from both teams.
Buckstone's first pairing of Robert Gray and John Dunn raced into a 3 hole lead after 5 only to be pegged back by Aegon's first pairing of Alan Greenhill and Tommy Fallon who won the 6th,7th,and 8th as they turned for home level. Robert and John took control of their match winning the 11th, 14th, 15th with a conceded short putt for a birdie 3, and 16th and halving the 17th gave them the advantage standing on the 18th tee 4 up.
In the second game the Buckstone 2nd pairing of Martin Hunter and Douglas Sutherland were 2 down at the turn and still 2 down after 11 holes against the Aegon pairing of Alan Swann and Steven Ede, however, they managed to find some extra form and rallied to win the 12th, 13th, and 15th to give them a 1 hole lead with 3 holes to play. With the teams agreeing the scores at this point, it meant that Buckstone "A" were declared the winners of this year's Sivewright Quaich by 5/4 scoreline.
The Buckstone team have won this trophy in previous years and have also been Runner Up as well in recent times. Congratulations to them and the victorious team are pictured here with the Sivewright Quaich which was presented to the Lothians by Bill Sivewright, a Prestonfield GC stalwart and we thank the Club for their continued hosting of the final event each year.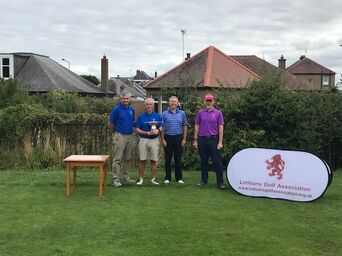 SEMI FINALS
Following two competitive matches in the Semi Finals Buckstone 'A' and Aegon have reached the Final which will be played at Prestonfield Golf Club on Sunday, 12 September 2021
In the first Semi Final it was Buckstone 'A' who took a hold of their match against City Chambers 'A' at Mortonhall, with the first match winning 6 up before the second match returned all square.
In the second Semi Final it was Aegon who held the upper hand with both matches finishing as close affairs before Aegon prevailed by 3 up over the two matches.
Both teams now head to the Neutral venue of Prestonfield who kindly host this match each year in representation of Bill Sivewright, a member of Prestonfield who kindly donated the Quaich for the purpose of the competition and each year we hold the Competition final at Prestonfield in his honour.