Fergus Brown wins Boys Championship
Final
Gullane GC provided two young players in the Final match of this years championship. On a slightly breezy sunny night the players set off with one thing on their mind. It was an even first six holes with both player winning a hole each to have the match at all square. However, it was Fergus Brown who made a big move over the next four holes winning three of them to be three up after 11. Kiron Gribble never gave up and both boys birdies the 12th. Gribble unfortunately bogied the 13th with Brown winning the hole with a Par, and moving to 4up. The spoils were shared at 14 and with Brown's commanding lead and only looking for a half at the 15th he chipped to two feet with his third shot.. Gribble's birdie attempt went just passed and was conceded. This left Brown to finish with a par as he tapped away his putt for a win 4&3.
Both Boys can be proud of their efforts this week, particularly Kiron who is current leading the Boys Order of Merit and also being the leading qualifier from Sunday's round. This is Brown's first time in the Championship and has started with a winning effort.
Well done to all the players throughout the week who played with enthusiasm, speed and determination.
Winner: Fergus Brown (Gullane) Runner-Up: Kiron Gribble (Gullane)
Fergus is pictured here receiving the Boys Championship Trophy from President, Jean Macnab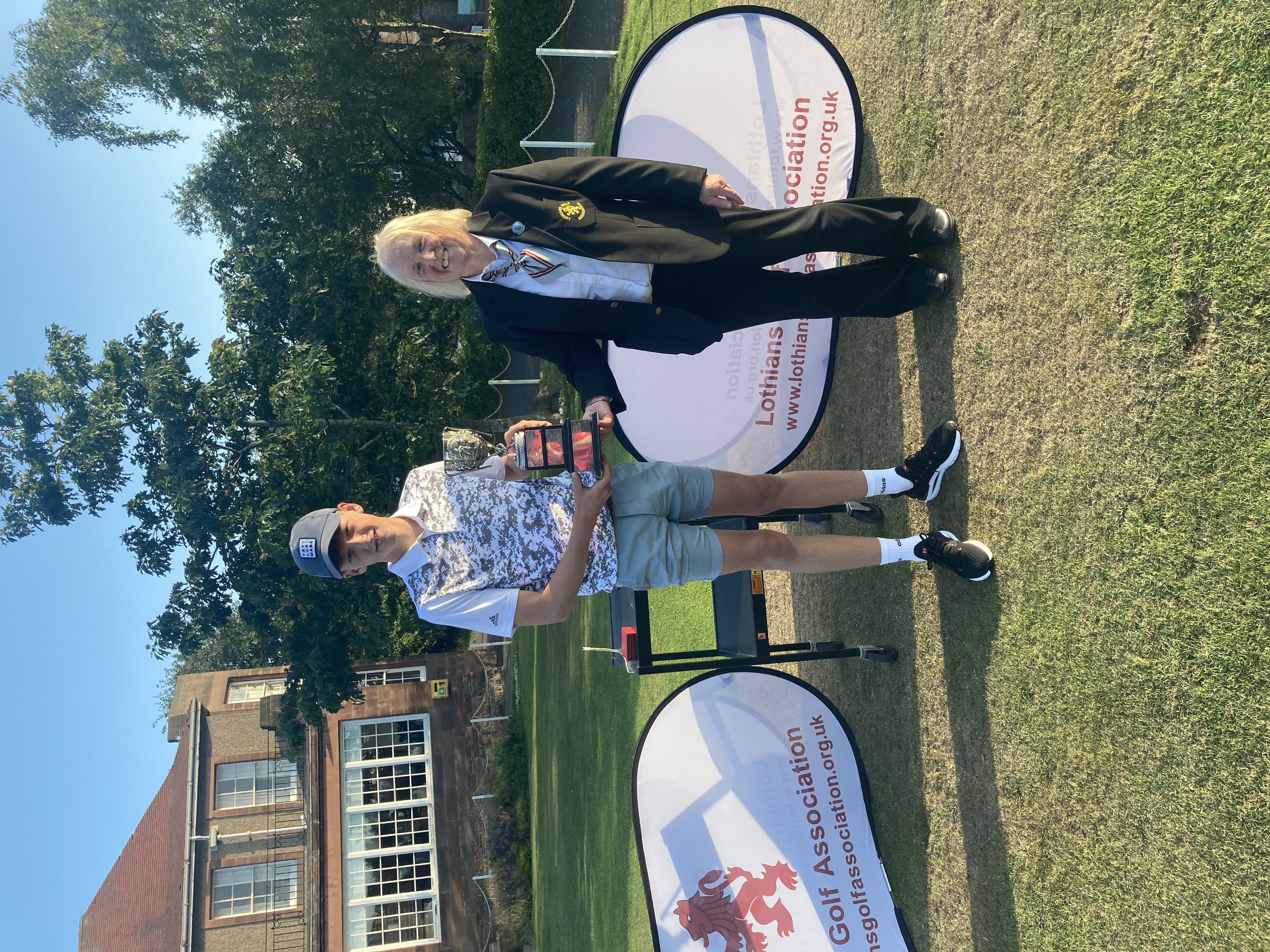 Semi Finals
Kiron Gribble maintained his form during his Semi Final match against James Woods, although the score of 5&4 sounds a lot, the match was tight throughout. In the other match, Fergus Brown had to endure extra holes to get passed Hayden Fowler in a very close match. So it was Fergus that triumphed after the 20th hole and now sets up a final against his fellow Gullane member in Wednesday's final match which tees off at the Braids at 5.00pm.
The Final line up is;
5.00pm Kiron Gribble (Gullane) versus Fergus Brown (Gullane)
Quarter Finals
On an excellent evening for golf the eight boys manage to play some excellent golf over the Braid Hills course. The Boys were a credit for fast golf with all four ties being finished by 8.05pm having teed off in the first match at 5.00pm. Well done to them all.
Leading Qualifier, Kiron Gribble managed to squeeze by Dylan Maisey by 1up having been 2 down early on in the match. James Wood was always in command in match two being 3 up after 6 and never looked back in his 2hole win.
Fergus Brown making his first appearance in the Boys Championship was a 2&1 winner over one of the fancied players Aiden Lawson and making it another Gullane member into the semi finals. In the last match Hayden Fowler made it a double for Bathgate as well with his win over Magnus Braby by 2&1.
The semi final line up is now as follows with match progressing on Tuesday, 3 August at 5.00pm
5.00pm Kiron Gribble (Gullane) v James Wood (Bathgate)
5.10pm Fergus Brown (Gullane) v Hayden Fowler (Bathgate)
Qualifying
Kiron Gribble (Gullane) today won the Lindsay Cup as leading qualifier for the Boys Championship at Braids No1, with a fine score of 69, and also wins the Stephen Gallacher Foundation (SGF) Under 14 trophy. On a good day for Gullane players, Fergus Brown (Gullane) won the SGF Under 16 trophy.
Eight players with scores of 74 and better progress to the match play stages starting at the Braids at 5pm tomorrow evening. Unfortunately Lyle Murdoch (Kings Acre) and Luca Smith (Baberton), also on 74, were eliminated on a 'count back'.
First round draw
5.00pm Kiron Gribble (Gullane) v Dylan Maisey(Loretto)
5.10pm James Wood (Bathgate) v Harry Bent (Gullane)
5.20pm Fergus Brown (Gullane) v Aidan Lawson (Bruntsfield Links GS)
5.30pm Magnus Braby (Craigielaw) v Hayden Fowler (Bathgate)